---
Clarence Inniss

Clarence Inniss served in the 3877th Quarter-master Gas Supply Company as a stationary fireman with other African Americans in an Army laundry unit. His oral history transcript gives specific details about the kinds of discrimination faced by black soldiers in WWII. He also talks about his company being sent to England before D-Day and then following the 2nd and 3rd Armies across Europe.
Gertrude Margaritte Ivory Bertram

Gertrude Bertram was one of the first African American nurses sent overseas with the Army Nurse Corps. She joined the ANC in 1941 and was posted with the 25th Station Hospital in Monrovia, Liberia, West Africa from March 1943 until early December 1943. After returning from Africa, she transferred to Ft. Bragg, NC where she assisted with penicillin trials until her discharge in October 1945.
Institute on World War II / African American
African American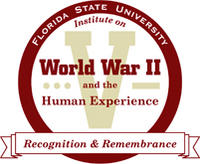 The Institute collects memorabilia from all participants in World War II, but is especially interested in making certain African American voices are heard. Too often minority participation has been ignored or downplayed in accounts of the war. The Institute's goal is to find, preserve, and make available as much documentation, photos, and oral histories as possible in order to present a fuller picture of African American military service as well as participation on the Home Front.
Blacks in the 1940s, especially in the South, faced Jim Crow laws that treated German POWs better than American citizens of color. The military reflected this segregation as it limited black enlistees to less than ten percent, or approximately 1.1 million, of troop force. To add insult to injury, most African American units were commanded by a white officer.
"It had to be a particularly challenging time for African Americans," said Joan Denman, Senior Archivist and Historian with the Institute. "They were being called upon to defend their country from the Nazis and Japanese, yet at home they were treated despicably. The fact that so many African Americans honorably served vouches to their patriotism and their hope about changing this country. In fact, the seeds of the Civil Rights Movement were laid from the experiences of those who participated in World War II."
"Most people have heard of the Tuskegee Airmen," said Denman, "but they were far from the only unit to show valor. For example, more than 19,000 black Marines served, many braving Japanese fire on the Pacific beachheads."
Of the 909,000 total black men in the Army, 78% were in the service branches, which included the quartermaster, engineer, and transportation corps. They composed nearly three-fourths of the drivers on the Red Ball Express, the truck convoy system in the European Theater. Dorie Miller, who was awarded the Navy Cross for his bravery during the attack at Pearl Harbor, was one of 167,000 men in the Navy. One Navy ship, the USS Mason, Destroyer Escort 529, had mostly a black crew. Over 5,000 African Americans joined the Coast Guard and ten percent, or 24,000 blacks, comprised the integrated Merchant Marine. In fact, seventeen Liberty Ships were named after noted blacks, and some were captained by African Americans.
The role of black women in World War II is one that has been consistently undervalued, Denman asserts. More than 6,500 black women volunteered in the Women's Army Corps. Of vital importance was the 6888th Central Postal Battalion. Major Charity Adams commanded the only all-black WAC unit to serve overseas. They were responsible for keeping mail flowing to the more than seven million servicemen and women in Europe. Fewer numbers of African American women were accepted in the other service branches, and their participation was limited. For example, the 512 black women in the Army Nurse Corps were confined to nursing either black troops or German prisoners of war.
Denman is encouraging not only African American veterans to share their stories, but also the stories of defense plant workers and others who participated and volunteered on the Home Front. "Shipyards and aircraft plants needed the labor of black men and women. Although they were too often relegated to menial, often custodial jobs, African Americans were essential to the war effort," said Denman.
"We have had some success so far in obtaining oral histories and memorabilia. Yet, we feel like there is so much more to discover," said Denman. "We want students to hear the firsthand accounts of all African Americans. We need the black community's assistance in helping to preserve their history."
To be interviewed, to donate wartime documents, memoirs, and photographs, or for more information, contact the Institute at 850-644-9033, e-mail ww2@ww2.fsu.edu or write the Institute on World War II & the Human Experience, Florida State University, Tallahassee, FL. 32306-2200.