By Appointment
Call Mike or E-mail
(850) 644-9033
Also you can call Anne or E-mail
(850) 644-9545
---
Hours
By Appointment Only
Monday - Friday
8:00 - 4:30 pm
Closed on the following holidays
Martin Luther King, Jr
Memorial Day
Independence Day
Labor Day
Veterans' Day
Thanksgiving
Winter break (December 24, 2016 - January 6, 2017)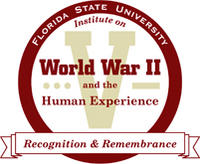 Research Reading Room
The Institute on World War II has original, and fragile, unique materials and books in our archives. These collections are kept in closed stacks and retrieved by staff, for use only in our research reading room.
Advance Appointments
A research appointment must be made first because of space limitations. Please e-mail Anne Marsh or call (850) 644-9545. If you email us, please put in subject line "Research Appointment." When you email or call for your first appointment, please give your research topic so that we can have collections pulled for your first appointment.
To obtain materials, a patron must submit a current photo identification (driver's license, etc.), which will be held at the reference desk, while the researcher is using the materials. All patrons must read and sign the Institute's "Rules & Regulations" form and "Provisions for Use of Collection" form. No food, gum or drinks are permitted in any of the Institute rooms.
Lockers
Lockers are provided to all researchers for all their belongings. Briefcases, backpacks, purses, pouches, cell phones and digital cameras must be secured in the lockers. Only pencils (no pens) and index cards (3 x 5), or laptops, are allowed in the research reading room.
Hours of Research Room
Hours of the Research room vary from semester to semester. We are closed evenings, Saturdays, Sundays, holidays and during FSU semester breaks.
Research Requests
Limited staff prevents us from doing research for patrons. If you are unable to come in person to conduct research, you may hire someone in your place. We can email the graduate students in the History department here at Florida State, and those who are interested will contact you directly. You will need to negotiate fees directly with the person you wish to hire. Usually, fees range from $15.00 – 25.00 per hour. Photocopying, scanning and usage fees are in addition to any fees you pay a researcher whom you hire.