Huaqing Shi
Huaqing Shi is a PhD student studying modern Japanese history with Dr. Annika Culver. He also did his MA at the Department of History of FSU. Since Fall 2017, he works in the institute focusing on Chinese/Japanese related materials.  Starting Fall 2018, he is also dealing with website maintenance and poster design. With research interests in religion, American history, environmental history, and war memories, he intends to do a dissertation on the postwar environmental history and war memories in both Japan and China.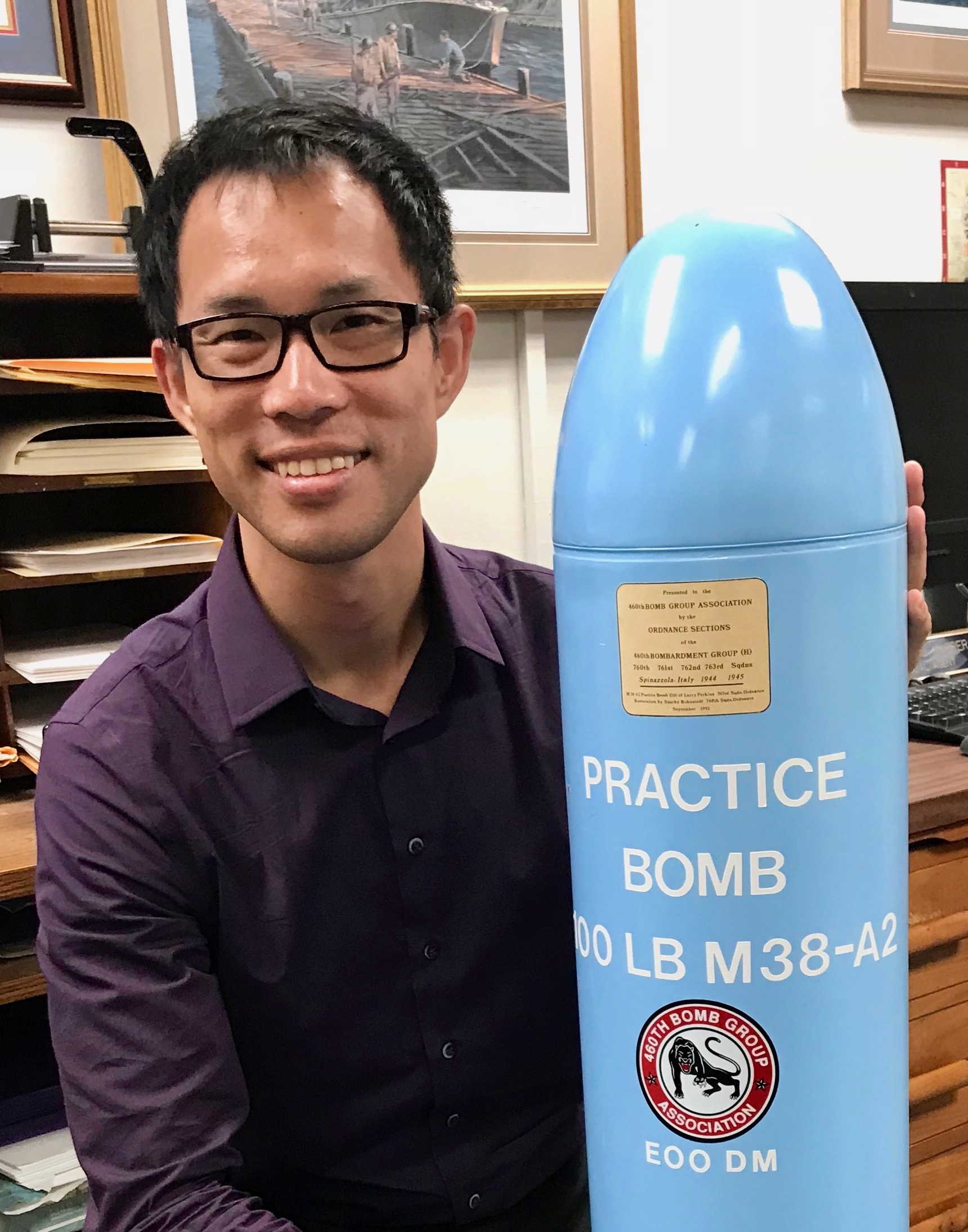 Takahito Moriyama 
Takahito Moriyama studies modern American history, working with Dr. G. Kurt Piehler since the fall of 2012. After receiving a B.A. from Osaka University and a M.A. from Kyoto University in Japan, Taka was awarded the Fulbright Graduate Study Grant and he entered the Ph.D. program of history at Florida State University. With research interests in modern conservatism, political advertising, and political consultants in American democracy, he is writing his dissertation on direct mail fundraising in right-wing politics.
Kyle Bracken
Kyle Bracken is a doctoral candidate in History at Florida State University. His research investigates the influence of the natural world on World War II operations in the Southwest Pacific, with specific regard to the expanding use of chemical agents by Allied forces. Kyle's work has been funded by the Franklin D. Roosevelt Presidential Library and the U.S. Army Heritage and Education Center, and he is the History Department Walbolt Research Fellow for Spring 2017. Portions of his project have been presented at annual meetings of the Society for Military History and the Organization of American Historians.
Paul Clemans
Lieutenant Colonel Paul Clemans earned a Bachelor of Science degree in Marine Engineering from the U. S. Merchant Marine Academy. Since then, he has been serving as an U. S. Air Force officer in support of various acquisition, operational analysis, and academic instruction efforts. Paul is currently pursuing a doctorate degree in U. S. History at Florida State University which will culminate with his dissertation entitled, "America's Foreign Airport Development Program." The dissertation will explore the effectiveness of the U. S. government's efforts to build airports in South America immediately prior to World War II.
Richard Davis
A native Kentuckian, Davis enrolled as a PhD graduate student in the Department of History at Florida State University in the Fall of 2013, with 20th Century US History as his major field. Prior to enrolling at FSU, he retired from the Kentucky Transportation Cabinet Department of Highways after more than 27 years of public service. A US Army veteran with three tours of duty in direct support of Operation Enduring Freedom and Operation Iraqi Freedom, Davis retired from the United States Army Reserve in 2007 with the rank of Major. He holds an MA degree in US History (2013) and a BS degree in Environmental Engineering Technology (1992) from Murray State University, as well as an AS degree from the University of Kentucky (1988). Davis' dissertation topic focuses on the life and contributions of renowned oral historian and World War II Combat Historian, Dr. Forrest Carlisle Pogue.
Jeremiah Fisher
Jeremiah Fisher is a full-time employee of Florida State University, as well as a doctoral student of History. He graduated Summa Cum Laude from Louisiana State University (B.A., B.A., 2003), and holds M.A. degrees in International Affairs (2005) and History (2015). His areas of interest are War and Society, Anglo-Irish history, diplomatic history, Atlantic history, and twentieth-century intellectual history of Europe and the United States. His dissertation focuses on the transatlantic diplomatic history of Ireland in the period of the Second World War (known in Ireland as "The Emergency"). A native Cajun from Lafayette, Louisiana, he enjoys good food shared with good friends, his husband, Scott, and his schipperke, Dexter. 
Allyson Gates
Allyson Gates is a Ph.D. candidate working with Dr. Piehler. She is working on a dissertation entitled, "Bickering Brass: Interservice Rivalry, Defense Unification, and the Pacific War," which looks at the interservice conflicts during the Second World War and attempts to understand how these led to the creation of the Department of Defense in the early postwar period. In support of her research and writing, Allyson has received such awards as the Dorothy P. and Margaret A. Johnsen Graduate Fellowship in American History from Florida State University, the Bernard M. Rosoff Memorial Master's Thesis Fellowship from the Marine Corps Heritage Foundation, the Edward S. Miller Research Fellowship in Naval History from the Naval War College Foundation, and most recently the Society for Military History ABC-Clio Research Award. Allyson also had the privilege to attend the West Point Summer Seminar in Military History in 2015. Having already presented her work at the American Historical Association and the Society for Military History, Allyson looks to finish writing and graduate in the spring of 2018.
Captain Kevin Malmquist
Captain Kevin Malmquist is an active duty officer in the U.S. Army currently pursuing his Ph.D. in Military History at Florida State. A native of Minnesota he joined the Minnesota National Guard in 2007 as an Infantryman while simultaneously enrolling in the University of Minnesota Army ROTC program.  After graduating with his Bachelors in History and Latin in 2008 he was commissioned as a Field Artillery Officer.  Over the last ten years, he has been stationed at Fort Sill, OK, and Camp Hovey, South Korea holding numerous positions from the platoon to the battalion level.  Most recently he had the privilege of serving as the Battery Commander for a Basic Combat Training battery, responsible for transforming over 1,200 civilians into U.S. Army Soldiers.  Kevin was selected to be an instructor at the United States Military Academy at West Point in the History Department where after his time at Florida State, he will teach Military Art.  He is interested in all aspects of military history, Roman history, medieval history, the long 18th century in France, and American history.  His dissertation research focuses on how militaries interact with historic and cultural sites in combat.  As a longue durée, the research will investigate various different approaches to these sites throughout history, beginning with the Greco-Roman world and concluding with an assessment of how these sites affect current American conflicts.
Captain John D. Prince
Captain John D. Prince is a doctoral student studying under the direction of Dr. Kurt Piehler.  After receiving his degree, Captain Prince will return to teach at the United States Air Force Academy in Colorado Springs, Colorado, where he will be responsible for education cadets in world history, military history, and U.S. history.  Captain Prince attended Oklahoma Baptist University and received his commission through Officer Training School in 2009.  He has almost nine years of service, and has held a number of leadership roles as a Force Support officer at Ramstein Air Base, Germany, where he deployed in support of Operation ENDURING FREEDOM.  Prior to his current position, the captain was the Sexual Assault Response Coordinator at Kunsan Air Base, Republic of Korea.
Hillary Sebeny
Hillary Sebeny is a doctoral candidate in US History working with Dr. Kurt Piehler, having received her MA from Florida State in 2014. Her dissertation concerns the Antarctic expeditions of Rear Admiral Richard Evelyn Byrd and their impact on mid-century America and the history of science. Since starting graduate school with Dr. Piehler, her research has been awarded funding from the Rockefeller archives, the Eisenhower and FDR Presidential Libraries, and she will be serving as the Department of History's Walbolt Fellow during the Fall 2017 semester.
Jason Ratcliffe
Jason Ratcliffe is a first year PhD student under Dr. G. Kurt Piehler, and is working on the relationship between the United States and the Philippines. He graduated from the University of Utah in 2013 with a BA in History, and has been at Florida State University since Fall 2014. His master's thesis focused on religion in the Philippines and American missionaries operating in the early years of the twentieth century. His dissertation will highlight the experience of the Philippines and the Filipinos in the Second World War. A mastery of multiple Philippine languages and dialects will benefit Jason in bringing this narrative to light. Jason worked as an archival assistant for the Institute on World War II and the Human Experience in the Spring semester of 2016. As a graduate assistant, Jason was responsible for several projects. He sorted some incoming collections, while also monitoring and aiding undergraduate students who were digitizing portions of multiple collections, including our noteworthy Edward Sidote Collection. As his primary task, Jason edited the online transcription of the Bill Bailey Collection, and wrote its headnote. As one of Dr. Piehler's graduate students, Jason continues to be an asset to the Institute whenever he is needed.
title-inside title-centered
2