​​​​​​I WANT TO SAVE YOUR MEMORIES OF THE WAR THAT SAVED THE WORLD
The focus of the Institute on World War II and the Human Experience is collecting and preserving
the memories of the men and women who participated in all the military branches, service with the Merchant Marine, Red Cross, USO, workers and volunteers on the Home Front (e.g., ship-building yards, defense plants, YMCA and other clubs) during the WWII era and the immediate post-war period (i.e., 1939 - 1949). With over 6,000 collections and growing, The Institute on WWII has items from individuals and units presenting all states and a few from other nations. The Institute is one of the nation's largest repositories on World War II. In 2001, Tom Brokaw donated countless items sent to him while writing his three books on "The Greatest Generation."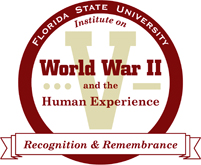 The Institute's collections are used in exhibits, papers and dissertations from college students from Florida and other states, documentaries (The History Channel), news articles,
books,
genealogy research, History Fair projects, public school classrooms, displays and for other research (e.g., Army Medical Department Regiment).
To find out more about the variety of items we collect, visit our Donate a Collection page. To learn more about how to get in touch with the Institute, please visit our Contact Us page.